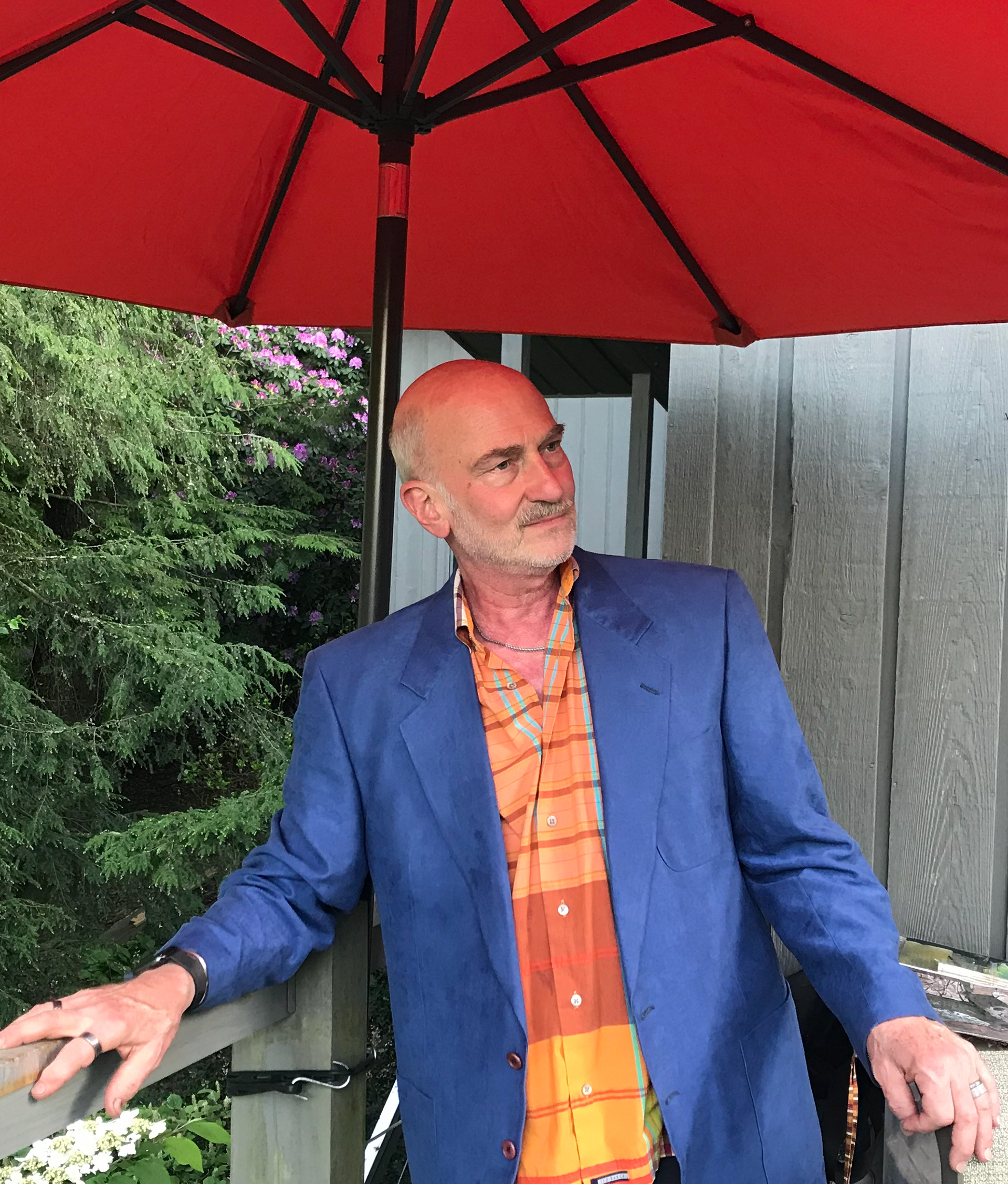 Michael J. Rosen is the creator of a wide variety of more than 150 books for both adults and young readers. He is a poet, editor, writer of fiction and non-fiction, humorist, illustrator, ceramic artist, and playwright...and companion animal to a cattle dog named Chant. 
Rosen's wide range of books for young readers include
A Tale of Rescue
(pictured above, with his dog Chant, the inspiration and model for the book), 
Chanukah Lights
, a poetic collaboration with pop-up master Robert Sabuda (Candlewick);
Our Farm: Four Seasons with Five Kids on One Family's Farm
(Darby Creek/Lerner), a 144-page oral history of an Ohio farm family that he photo-chronicled and supplemented with sidebars of local- and natural history; and
Running with Trains,
a novel in poetry and two voices (Wordsong/Boyds Mills), set in 1969 that interweaves the lives of a boy commuting between cities on the B&O Railroad and a farm boy whose land the railroad crosses.
Many of his books engage his degree in zoology and his passion for nature and the creatures who share this world. For the last 22 years, he's lived on 100 forested acres in the foothills of the Appalachians, east of Columbus, Ohio, where he spent most of his life. Workman published three volumes of hefty information: his comprehensive, go-to handbook,
My Dog! A Kids' Guide to Keeping a Happy, Healthy Dog;
his eco-wise guide to freshwater fishing,
Kids' Book of Fishing;
and
The 60-Second Encyclopedia
, a witty fact- and math-packed compendium of minute-measurements that come from nearly every subject area. Candlewick published four volumes of haiku with natural-history endnotes on birds, on cats, on dogs, and, most recently, on horses. His latest book from Doubleday,
In the Quiet, NOISY Woods,
is a cumulative sound narrative of eight creatures who share his acres.
Fifteen of his books including
SPEAK!, Down to Earth
, and
The Greatest Table
(Harcourt), and
Home
(HarperCollins) were created with the generosity of hundreds of the country's best-known illustrators, photographers, authors, and cartoonists as creative philanthropy. Along with several adult books, profits from these collections benefitted Share Our Strength's work to end childhood hunger and a granting program Rosen created, The Company of Animals Fund, that awarded over $375,000 to 100 animal-welfare organizations.
Among the many distinguished awards and citations his work has received are:
• The Sydney Taylor Book Award from the Association of Jewish Libraries for
Chanukah Lights
. (Candlewick)
• The inaugural Simon Wiesenthal Museum of Tolerance Once Upon a World Book Award for the best children's book that promotes diversity and tolerance for
A School for Pompey Walker
. (Harcourt)  
• The Ohioana Library Career Citation awarded by the state of Ohio.
• The National Jewish Book Award for
Elijah's Angel
, a picture book based on Rosen's friendship with the renowned folk artist Elijah Pierce.
Several of his books have been Junior Library Guild featured selections and Scholastic Book Club picks, while others have been featured as "Best Books of the Year" by
Kirkus, CCBC, Bank Street Books, Hungry Mind Review, Essence, The Today Show, The Horn Book, Miami Herald,
and the ASPCA. His works have been adapted as a PBS documentary (
Our Farm: Four Seasons with Five Kids on One Family Farm
); a family opera (composer Robert Kapilow's
Elijah's Angel
); and a short film (director Christopher Rowley's
The Remembering Movies
).
Michael has also actively worked in professional development, writers' residencies, curriculum development, and creative-writing workshops with readers, writers, and teachers for over 40 years, including 20 years as program director of the Thurber House, a literary center in Columbus, Ohio.
And, in the realm of completely random, here's an article in the
New Yorker
about my book,
Fishing with Dad
, that never mentions the author's name...but makes me especially honored to have created such a book. 
​​​​​​​
A short interview using questions commonly posed by kids during my visit to their school or library. 
A page that un-confuses the confusing meld of books by authors named "Michael" and "Rosen." 
Just a list of maxims, proverbs, what-have-you. Thoughts to inspire...